Function, form and seamless delivery
End-to-end workplace solutions are where workplace strategy, design and construction converge to deliver your workplace vision.

Workplace strategy uncovers your priorities and needs to identify objectives - whether they're innovation, productivity, sustainability or collaboration. Evidence-based design uses function and form to encourage and facilitate those behaviours, and delivery brings it all to life.


Cumulative value, seamless momentum
When workplace strategy, workplace design and workplace delivery are in sync, there is always a strategic eye on the original business objective.


Finding the right balance
An end-to-end process ensures a focus on the business goal from strategy through to delivery. It's about finding the right balance between timeline, budget and goal achievement.


From research and strategy to design and delivery, we create workplaces that meet your objectives.
Confidence that your strategic need has been identified, responded to and delivered

Work with a partner who listens, inspires, challenges and pushes the boundaries, from beginning to end

Achieve measurable results you can report to the board
Our team works in collaboration with yours to achieve the outcome you envisioned, and gives you data to support it.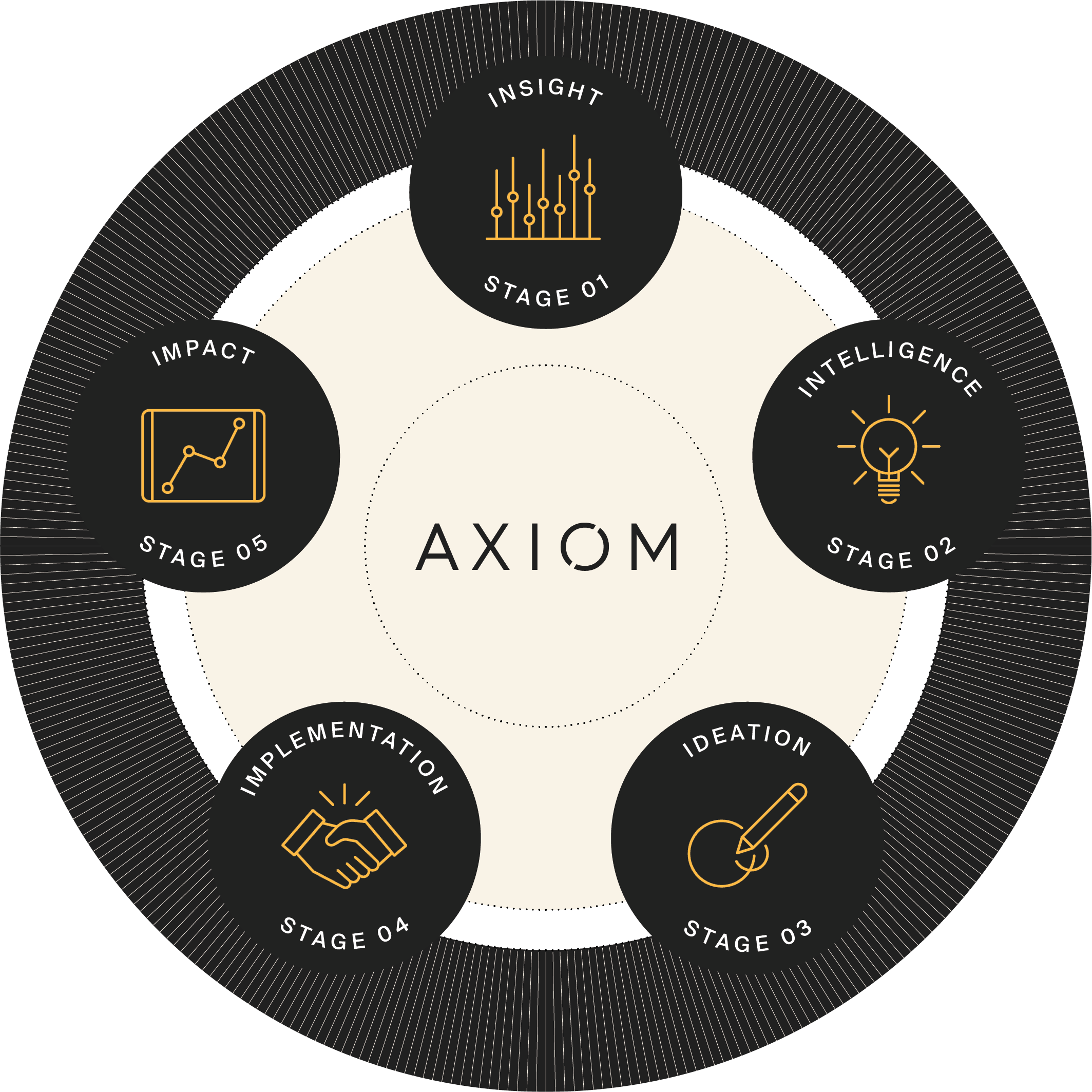 An end-to-end approach to workplace strategy
Insights
We gather and share insights, then establish your challenges, aspirations, and business objectives, using these to set goals aligned with the vision of your business.
Intelligence
We use data and insights to develop a consultative strategic roadmap, which ensures achievement of your future workplace goals.
Ideation
Create appealing spaces that draw people in, create interest, engagement and support function.
Implementation
Look for more than a commercial fit-out. Look for a workplace delivery partner with 25 years of experience. One that understands workplace strategy, workplace design, and who keeps your strategic goal in view.
Impact
Our evidence-based methodologies, including our unique wrkx Index, quantify the impact of workplace strategy on your business objectives - by benchmarking key metrics both before and after our engagement.
The space Axiom created not only exceeded the clients brief, it also offers staff support and empowerment and allows them to collaborate, innovate and perform at their best.
Axis Communications
Melbourne CBD, VIC
Axiom created a substantial showroom and back of house area that displays multiple products throughout different areas of the office and 'real world' scenarios creating interest zones throughout the space and ensuring the layout was fit for purpose.
Coleman Greig
Paramatta, NSW
Through 1-on-1 interviews with senior leaders, we gained an understanding of the vision which they had as a business and how the workplace should be designed to support that vision.


Axiom Workplaces provided an in-depth study into the organisation & demonstrated how ELMO's new HQ could assist with the company's aspirational vision.