Build your thriving workplace
Work with a partner that takes the stress out of your office fit out. Workplace delivery covers documentation, construction, project handover and post-construction support, all with close attention to safety and compliance. Experience Axiom's unfaltering attention to both detail and quality.

Axiom progressively manages the budget throughout delivery, so your strategy can be realised. In this way, your workplace construction can be a seamless, enjoyable process.



Quality, experience and collaboration that delivers
Managing your own construction project can be stressful, particularly if it isn't your day job.

Experience and quality trumps everything else
We can mitigate the stress and risk of your job, ensuring costs are adhered to, timing is respected and certifications run smoothly.

Workplace construction that makes life easy
Workplace delivery is made up of three key stages:
Preconstruction - scoping and refining the project, value engineering and procurement.

Construction - state-of-the-art construction software provides live updates and maximises visibility. Strong site presence and quality control.

Post Construction - defect-free handover, training and support to ensure employees are set up for success.
With 25 years of experience in construction, the process is smooth and quality is delivered.
Create an engaging workplace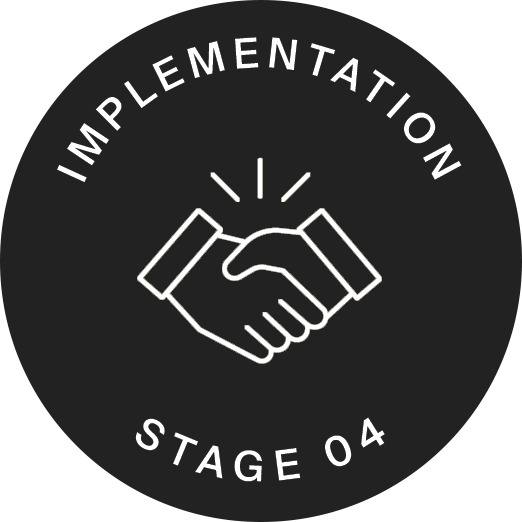 Implementation - Construction
Axiom's integrated methodology for consistent and risk-free project delivery, is grounded in our collaborative approach. We manage the project maintaining transparency and safety throughout the process, so your strategy can be realised. In this way, your workplace construction can be a seamless, enjoyable process.
The space Axiom created not only exceeded the clients brief, it also offers staff support and empowerment and allows them to collaborate, innovate and perform at their best.
Axis Communications
Melbourne CBD, VIC
Axiom created a substantial showroom and back of house area that displays multiple products throughout different areas of the office and 'real world' scenarios creating interest zones throughout the space and ensuring the layout was fit for purpose.
Coleman Greig
Paramatta, NSW
Through 1-on-1 interviews with senior leaders, we gained an understanding of the vision which they had as a business and how the workplace should be designed to support that vision.


Axiom Workplaces provided an in-depth study into the organisation & demonstrated how ELMO's new HQ could assist with the company's aspirational vision.