A Holistic Workplace Transformation
A successful commercial fitout has the potential to transform your organisation. Axiom Workplace's team of strategists, designers and project managers will guide you through a data-driven workplace strategy, provide bespoke workplace design and the high-quality construction delivery of a commercial fitout.

We begin by holistically assessing your workplace, identifying what you need to support your culture, to enhance collaboration and allow for a future-proof workplace. We talk to your team; we measure, analyse and learn.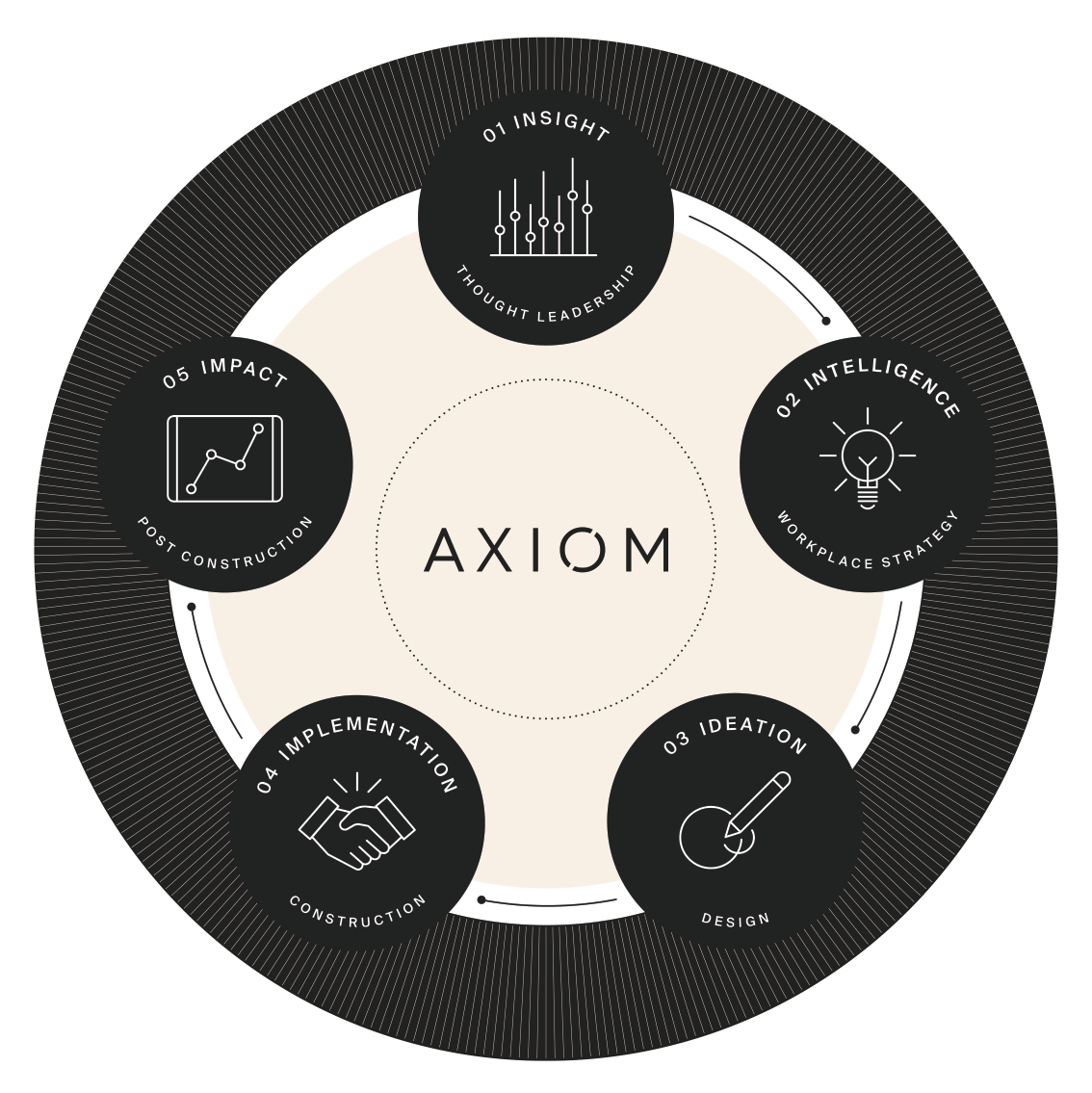 01. Insight

02. Intelligence

03. Ideation

04. Implementation

05. Impact

Insight – Thought Leadership
We share our insights via a range of platforms. These include our bespoke client Insight Sessions and our comprehensive events program. Our team also share their knowledge through whitepapers and insights articles.

Intelligence - Workplace Strategy
We establish your challenges, aspirations, and business objectives, using these to set goals aligned with the vision of your business. Using our suite of wrkx™ tools, we measure the impact of workplace design on an organisation. Using data and insights we develop a consultative strategic roadmap which ensures achievement of your future workplace goals. Ideation - Design
Utilising our data driven insights, the Ideation phase encompasses innovative design thinking, technical know-how and best practice. We partner with our clients to understand their project requirements. Then we collaboratively create workspace environments that support their employees to do their best work and showcase their organisational brand.
Implementation - Construction
Axiom's integrated methodology for consistent and risk-free project delivery, is grounded in our collaborative approach. We manage the project maintaining transparency and safety throughout the process, so your strategy can be realised. In this way, your workplace construction can be a seamless, enjoyable process.

Impact - Post Construction
We work with clients to ensure that their use of their new workplace is a success. Using wrkx™, we measure the organisational impact of your new workplace, and periodically retest to keep it relevant.