Life at Axiom
A thriving workplace is a rewarding vision that our passionate team strives to achieve.

Axiom Workplaces is built on the idea that people and businesses can flourish in the right environment. To that end, we research, strategise, design and deliver workplaces that bring cultures alive, that make people productive, that inspire collaboration, that help organisations prosper.

The future of work is here, and along with it, the radical new technologies, tools and ways of working. Guided by our values, Axiom is meeting the challenges of tomorrow, creatively, measurably, and collaboratively.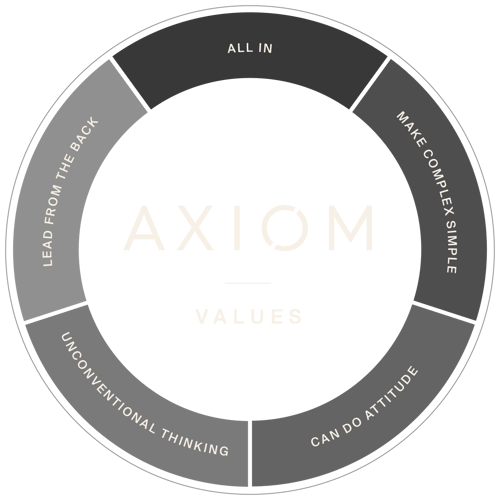 Work in our workplaces
Axiom people are strategic, professional, diligent, and engaging. We go about our work in a sharply focused yet collegiate and collaborative way, bound by our passion for creating successful workplaces. This requires us to be insightful, curious, responsive to change - and to never take our eye off that objective.
If this sounds like you, see our vacancies below
Team: Strategy & Design
Brief: Fantastic opportunity for a design lead to collaborate at a senior level during an exciting and accelerated growth phase for our Design & Strategy team.
"One of the most rewarding aspects of my role is the ability to work directly with a broad spectrum of clients. Our energised team of designers approach every project with a holistic view to create a bespoke, unique design that represents the culture, brand and community of our clients. In my role, I am able to contribute to the future success of our client's business."
"From the minute I was introduced to the business I could see the values that united our people. It was the values of the business that brought me to my role as I immediately felt aligned. Now I work here, I do feel as though we live and breathe our values in everything we do."
"Working at Axiom has been an amazing experience! There is a great culture that is friendly, welcoming and encourages collaboration. It is inspiring to known that Axiom has a strong commitment to career development and learning which provides new and exciting opportunities to gain industry experience and grow."